Beverley has a responsive and experiential approach to art which, together with her abstract expressionism, creates a collection of individually unique works. Her paintings are related as a whole, not only by their acrylic medium, but by a layered and highly developed sense of colour, form and line - the interwoven relationships of which have been mastered during her now forty years of brushwork.
Latest News
On Monday 11 July, the first 25 paintings shown on my website will be hung for a solo exhibition at Wild Canary Botanical Bistro/Gallery, 2317 Moggill Rd, Brookfield, Qld. This exhibition may be viewed at the Bistro from 8.30am to 3pm each day from 12 July to 15 August and will also be available on-line for viewing and purchasing from 5.30pm on Monday 11 July on the ART section of the WIld Canary website: www.wildcanary.com.au.
You are invited to a Meet the Artist session at Wild Canary Gallery from 3-4pm on Saturday 30th July. Please indicate if you wish to attend using the response facility on www.wildcanary.com.au. Follow posts on Instagram over the coming weeks @taintonbeverley and @wildcanaryart.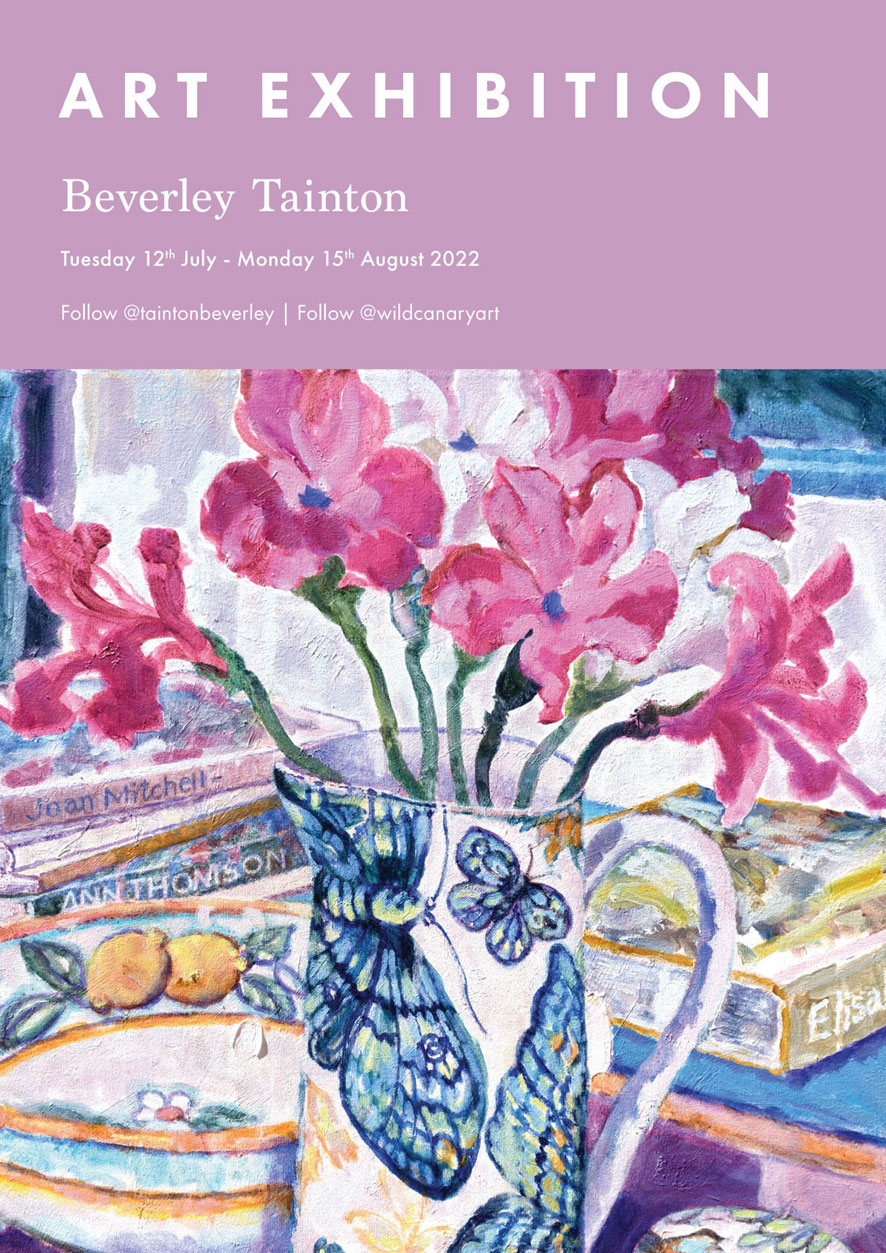 Earlier this year, I had a beautiful painting titled Reflecting on Spring in the Royal Queensland Art Society Fellows Exhibition (opened by Her Excellency, Dr Janette Young, Governor of Queensland) at Petrie Terrace Gallery, Brisbane. See pictures on this website.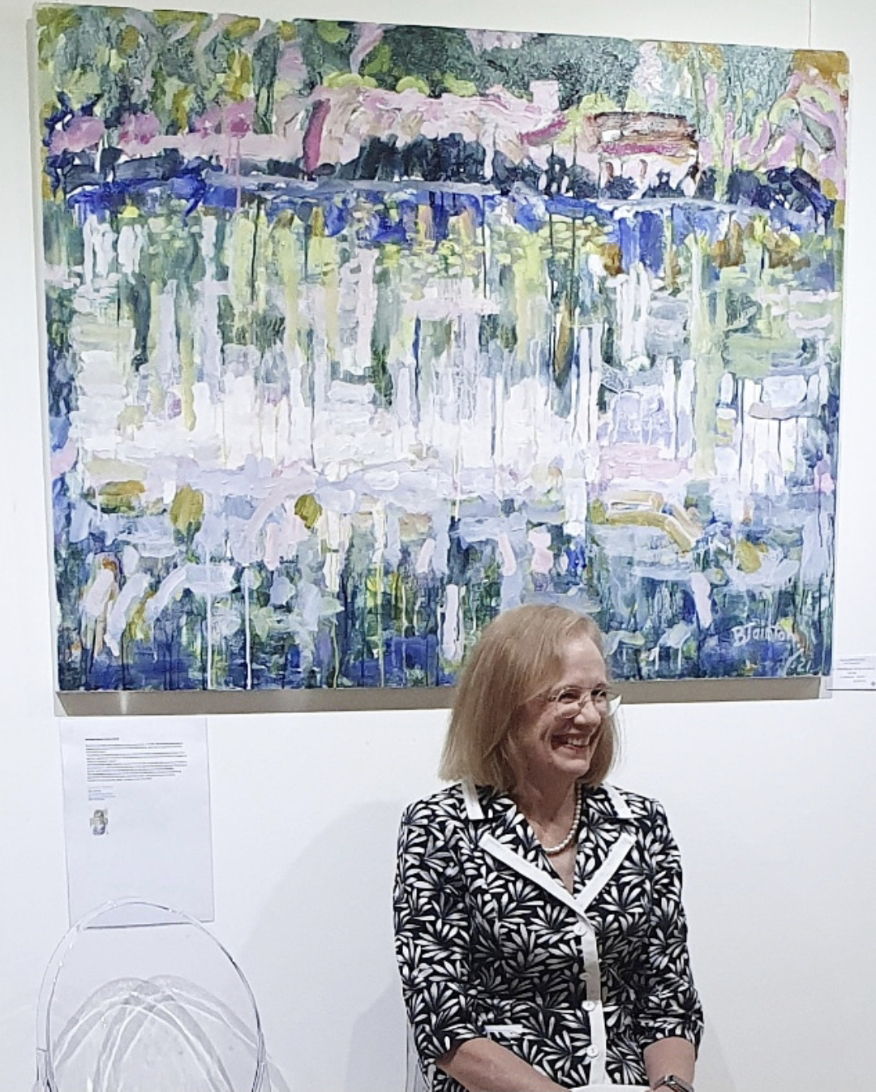 Her Excellency, Governor of Queensland, with my painting: Reflecting on Spring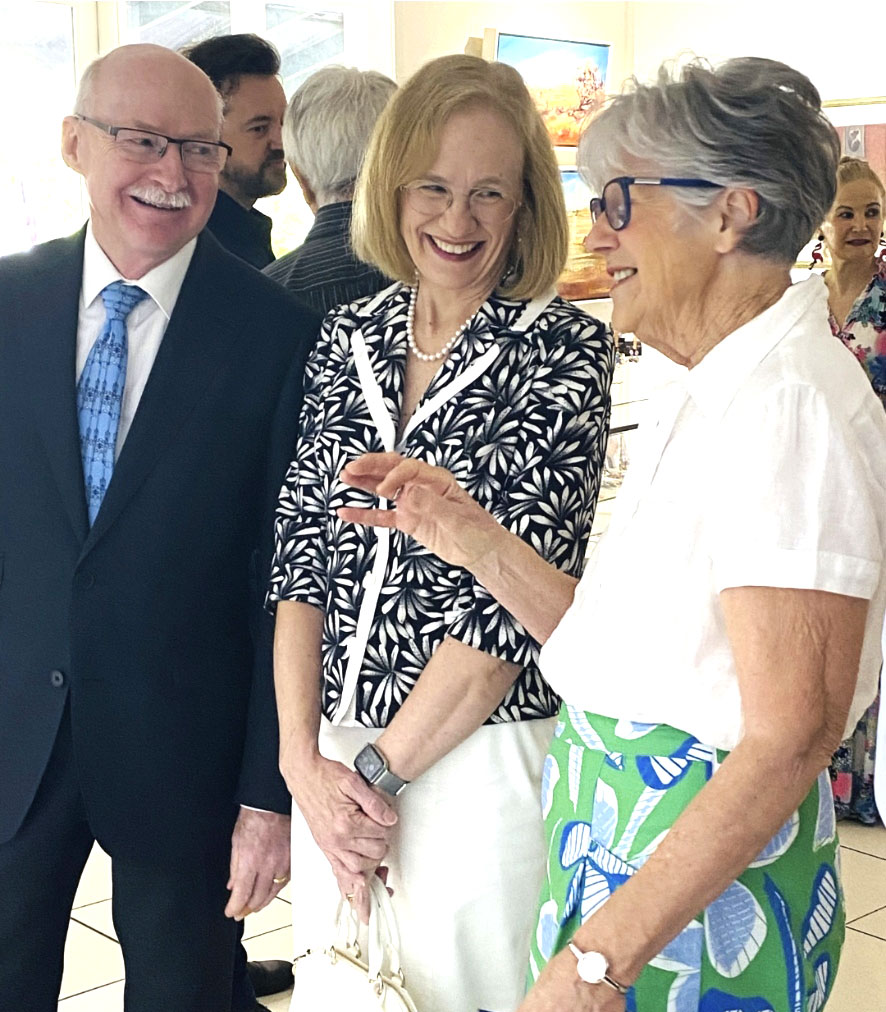 Talking with Her Excellency, Governor of Queensland about my painting
Art does not reproduce the visible, it makes visible. (Paul Klee).
Join My Art Classes
I run fortnightly acrylic painting classes in my home studio at Westlake, Brisbane on alternate Fridays. My charge is $35 for a session running from 9.30am to 1.00pm. I would welcome enquiries using the form on the Contact tab of this website.
Other News
In 2017, I received two "Highly Commended" awards and a "People's Choice" award in exhibitions at the Royal Queensland Art Society, and judge, Richard Blundell, made the following comments on one of these works titled "September": "Spontaneous and painterly approach to landscape with the sense of immediacy and urgent mark making... this work carries the power of the artist 'breaking open' the structure and significant forms of the landscape. I am moved by the raw mark making."
In 2013, I received the Christian Thomsen Award for Painting (Judge: Julie Ewington, QAGOMA) at the Rio Tinto Alcan Martin Hanson Memorial Art Awards, Gladstone Regional Gallery.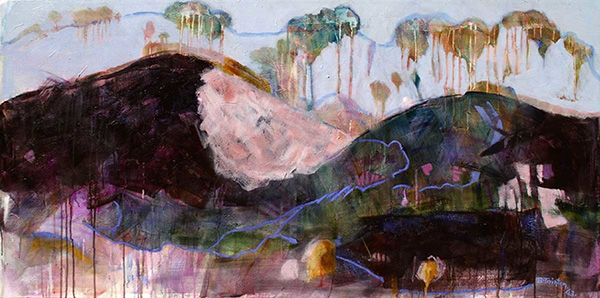 Bitter Sweet 75cm x 153cm Christian Thomsen Award 2013 (NFS)
The 2017 Autumn Edition of ART EDIT, p119, contained a Gallery Panel review of one of my paintings "Catching the Moon". Gallerists who have commented are: Ralph Hobbs, Director at Nanda/Hobbs Contemporary; Peter Aitken, Director at Wentworth Galleries; and Susan Gibson, Gallery Owner at Cambridge Studio Gallery.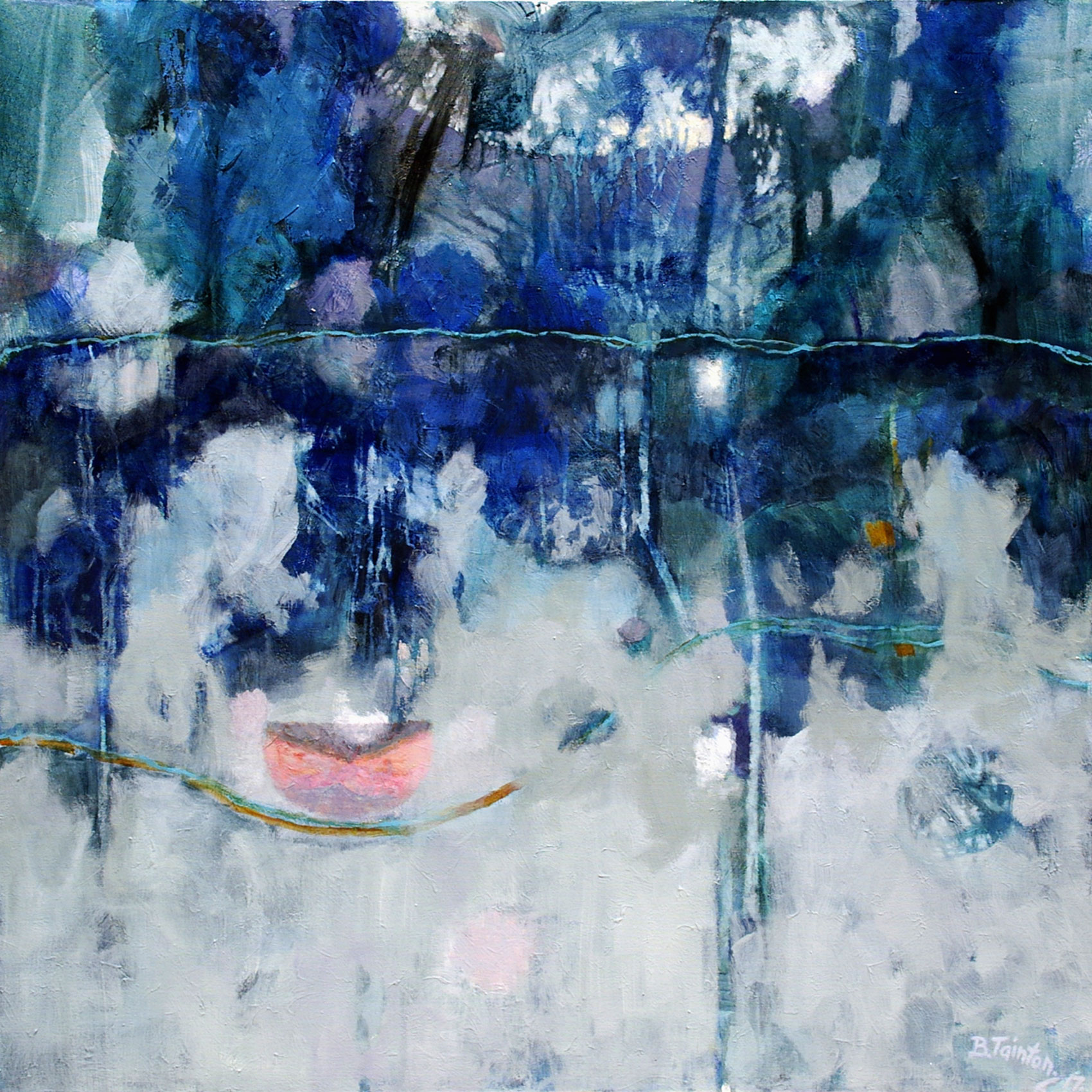 Catching the Moon, Acrylic on canvas, 98x98cm (SOLD)
"Tainton's Catching the Moon, is a painting with many romantic connotations. It has a lightness that captures the landscape in moonlight with a dynamic yet haunting sense of midnight stillness. The layering of tone and colour coupled with a sensitivity of line is very effective. The little dots of orange and the boat-like form float in the foreground giving a strength of composition to the painting without adding weight that would affect the overall light feel of the painting. It is a great size to fill its own wall space or work in with similar sized pieces in a collection."
Ralph Hobbs, Director at Nanda\Hobbs Contemporary
Professor Mostyn Bramley-More, Professor of Fine Art at Griffith University, has recognised my work with a prize in the May 2016 Abstract Exhibition organised by the Royal Queensland Art Society.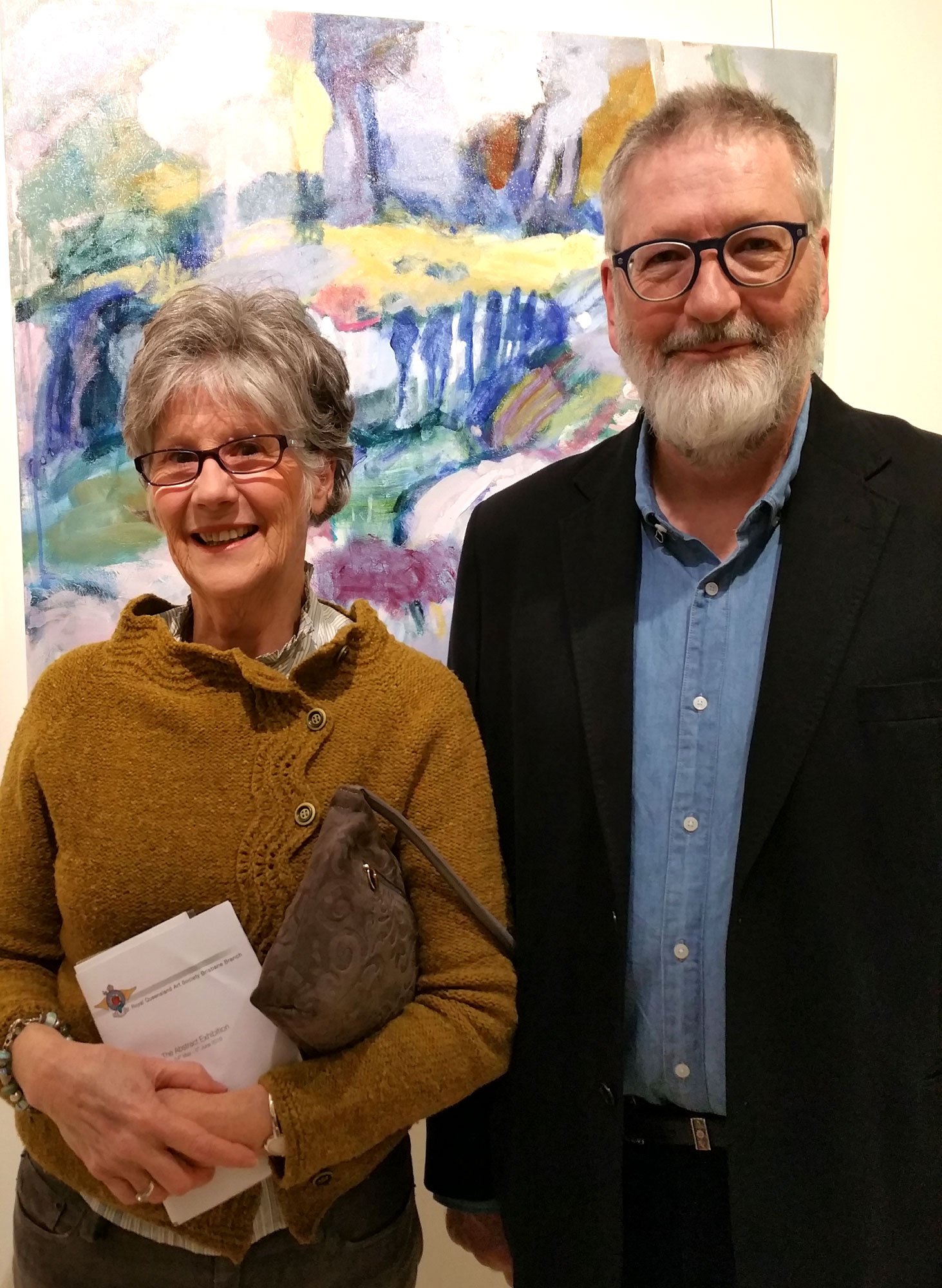 Beverley with Professor Bramley-Moore - her painting in background
Emotional Landscape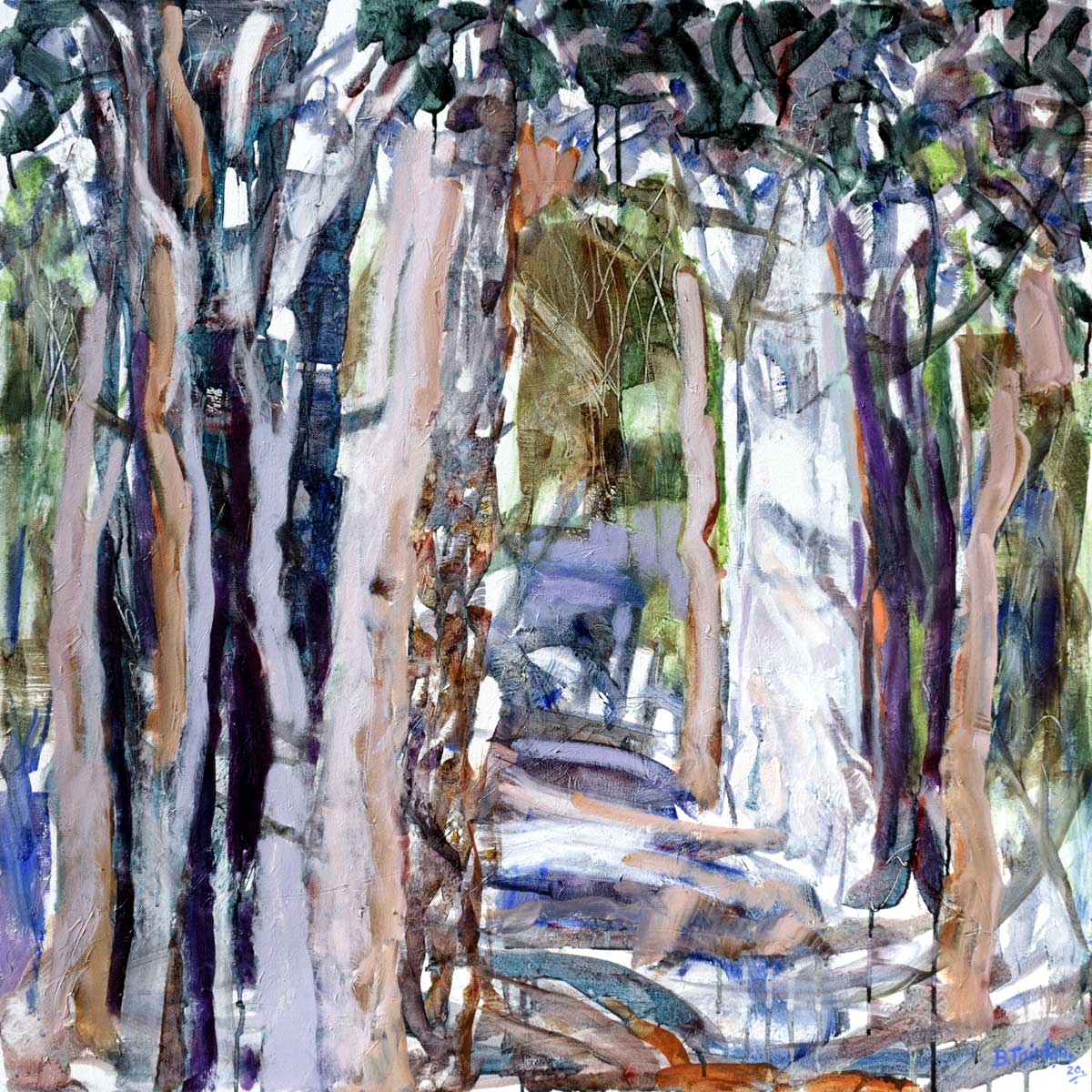 Coucal Trail 98cm x 98cm (SOLD) (Peoples Choice 2020)
The Coucal Trail is part of my daily exercise routine. Not only does it reveal beautiful river gum scenery but also a host of wild life - nesting King Parrots, Kookaburras and Frogmouths; regular sightings of kangaroos, wrens, deer etc. It's these experiences and the changing seasons and palette of colours that inspire beauty and joy in my art.
A selection of my work is available through:
Tusk Gallery, 2/438 Mt Dandenong Rd, Kilsyth, Vic, 3137
P: 04 25774415 (Gary Collier)